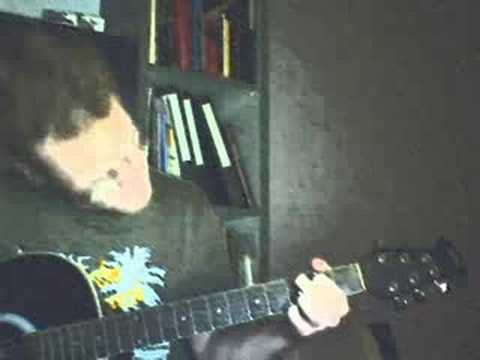 More Videos
Guitar Chords
Band4 Non Blondes
AlbumBigger, Better, Faster, More!
TypeGuitar Chords
\{D/#\}
\{D/#\}
What a wonderful hesitation
who would bear to feel sorry for me
dropped another pill just to calm me
collapsed to my knees and fell fast into sleep
C (9 fr.)
There I was drifting
way out into the sunshine
expecting to crash but I'm tied to a string
Look at me I'm a tangled puppet
I might be a mess but I sure can survive
find myself awake counting sad days
1-2-3 that's too many for me
dropped another pill just to find me
reached for my hand
but it was already there
C (9 fr.)
then I started believin'
that I fell out of a tiny raindrop
that lost it's way when it decided to roam
chasing me was a hungry dweller
but I had escaped it by pretending to die
Come follow me you won't expect the illusion
you'll see, it's my immagination
hand me your eyes
I will put them in front of mine
You'll see a little better
You'll see a little better
\{D/#\}
\{D/#\}
What a wonderful destination
where I'm now I can no longer see
dropped another pill just to kill me
collapsed to my knees and fell fast into sleep
C (9 fr.)
there I was drifting
way out into the sunshine
expecting to crash but I'm tied to a string
Look at me I'm a tangled puppet
I might be a mess but I sure can survive
But i had escaped it by pretending to die.
Outtro:
Formation Chords:
C (9 fr.) : 032020
The chords to Drifting are:
Im not really sure what those chord names are, but thats what they look
like.
Between the versus and the chorus the C chord is played
Then for the chorus, the chords are:
This is not the exact music for the song, but it is the basic form and the
proper chords, so good luck!